About
Welcome to Munchkin Freebies™!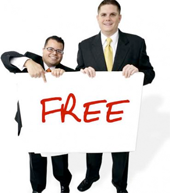 Munchkin Freebies™ is a platform where brands can advertise their products and services by offering a free sample or discount coupons to prospective consumers. Consumers, on the other hand, get to try new products for free and also enjoy some great discounts via coupons. We have a large collection of free products samples, discount coupons and other great deals in the USA, Canada and the UK. Most of the product samples and other free stuff are delivered to your mailbox, absolutely free of charge. Discount Coupons and other Printable stuff can be printed directly. It is a great way for consumers to try new products and a great way for companies to reach out to potential customers! The site is updated daily with new free stuff. The latest ones can always be seen on the main page of the site. If you have a free offer that you would like us to promote, please submit free offers here.
You don't need to register with us to enjoy the free stuff. Anyone and everyone has access to all the free stuff on Munchkin Freebies. Like us on Facebook, follow us on Twitter and Pinterest to get updates from us about new free samples! You can also subscribe to our daily email blasts.
Please feel free to contact us and let us know how we're doing. We want to hear from YOU!
Frequently Asked Questions
Where do all these free stuff come from?
The free stuff comes directly from the company that is offering the promotion. Munchkin Freebies does not send out the free samples. Munchkin Freebies is merely a collection of links from where these free samples may be requested
I haven't received the free sample I requested
It is important to remember that requesting for a free sample does not guarantee that you will receive one. Sometimes, companies are overwhelmed with requests and are unable to fulfill all requests. If you really want to try a particular free sample and haven't received it yet, you may contact the company you requested the free sample from.
How much does Munchkin Freebies cost?
Munchkin Freebies is, and will always be, absolutely FREE! In fact, you don't even have to become a member to enjoy the free stuff at Munchkin Freebies. Anyone and everyone has access to all the free stuff!
How long does it take for a free sample to be delivered to my mailbox?
The delivery time varies from product to product. Typically, it takes about 4-8 weeks (or perhaps more). It really depends on the merchant that is sending out the sample.